Digital forms for data collection & field research
Field work becomes simple with ProofSafe digital forms. Forms on a device can collect text, images, signatures, mapping / GPS data, number formats, calculated questions (and others). You can also create lookup lists for quick selection.
Once complete your uploaded data is delivered as a spreadsheet - no data re-entry, no mistakes! Data can also be delivered via an API or in any other format you specify. (API - moves data between different computer programs)
Moving from paper to digital forms is like packing up the sextant and using a GPS unit, it will be okay! ProofSafe includes unique features ensuring all your questions are answered and your data is complete.


Efficient data collection and transfer.

Digital forms suited to any task
Every organisation collects information, this may be for scientific research, administration, surveys, audits, safety compliance etc. ProofSafe was developed to solve the OHS / WHS compliance puzzle, so it needed to be higly flexible. The result is a system with features that can work for everyone in every data collection situation.
Some common uses:
Research
Pre-start checks
Vehicle log books
Fauna surveys
Safety audits
Client surveys
Creating and editing forms
ProofSafe forms are simple to create, using a drag and drop interface you create a question, allocate any settings or dropdown lists and share it with your team, editing is just as straightforward.
ProofSafe is relatively young and currently we are working very closely with clients to build the best forms possible on your behalf, this saves time and ensures you have user friendly, well designed forms.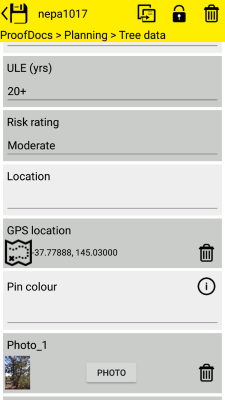 Recent data collection projects using ProofSafe
Treetec - Arboriculture / Ecology - using Proof Safe to assess tree populations in urban settings and deliver reports. A digital form is configured in two levels; the main form is used for general project information, then a repeatable sub form is used for each individual tree. There are various question types such as a cascading species list for quick selection, health and structure categories within dropdown lists, photo and GPS questions. Once that data is uploaded it's fed into a report template and automatically ouput as a Word document including data tables, images and maps.
Arthur Rylah Institute (ARI) applied ecological research - ARI is using ProofSafe to survey Greater Gliders, the study is undertaken in two parts with a form for spotlighting work at night and a separate form for collecting vegetation data during daylight hours. Devices such as smartphones are perfect for nighttime surveys as they keep things simple with no external light source required. Upon completion of the field work all data is amalgamated by ProofSafe and delivered as a single Excel file for analysis.