Digitise all your paper systems - ProofSafe is a web based software package, and an App, to assist organisations collect and manage information. ProofSafe is very flexible and we will configure it to suit you and your team.

Examples:

Customised and Simple
We will ensure that ProofSafe is simple for the whole team to use and configured to your needs, we'll look after the technology so you can focus on what you do.

With ProofSafe you can collect data and then use that data as and when you need it. Collecting information requires forms, we'll help you set up all your forms as well as your reports, forms are easily edited and shared with individual teams or external contractors as required.
Simple to use - high staff adoption and participation
Eliminate paperwork and time consuming data entry
Let your entire team record data and events, anywhere, anytime
Prove safety compliance to authorities and work providers - win tenders
Use a single system to do everything - field research, pre-starts, time sheets, maintenance records....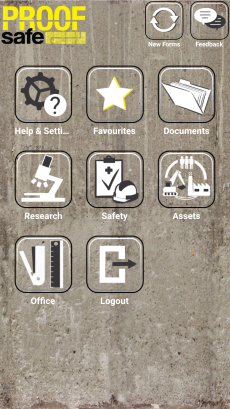 Solutions
ProofSafe is a full solution that we will customise to your needs:
Collecting data with smart, clean forms
Data transfer and storage that is efficient and secure
Outputs - You can extract the information you need when you need it as spreadsheets, reports or via API's etc 
(API - moves data between different computer programs)
We work directly with you to create solutions for your organisation
ProofSafe documentation will be in plain language, the app and desktop program is simple to use and our team will assist as needed to ensure ProofSafe is working for you.
Pricing
Our pricing structure is founded on fair: Low monthly subscription fee, free when you're inactive. We can provide a fixed cost for budgeting if preferred.
Your entire team, including Citizen Scientists, can have the ProofSafe App and forms on their devices ready to go with no charge, they can even upload a small number of results each month free, this means your forms are familiar, tested and ready to go but you only pay for active users, this is fair.
We are offering a limited number of packages free of charge to volunteer groups - if you are a volunteer organisation focused on the environment or community contact us to see if you are eligible.
Setting up ProofSafe for your organisation may (or may not) incur a cost, depending on complexity. We will give you a clear indication of any costs prior to commencing, call to discuss your needs.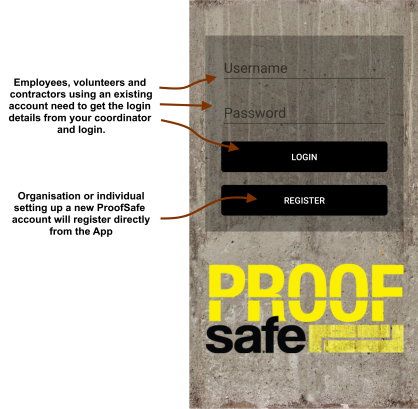 Getting started
Individual using an existing account (e.g. employee joining a company) - Get your login details from your employer or project coordinator and login, you do NOT need to 'Register'.
Organisation or individual setting up a new account - Using the App Store (iOS) or Play Store (Google/Android) download the ProofSafe app to your devices, then register directly on your device.
For assistance contact us via email or take a look at the Help Page.
To have a look at how the app is structured and try out some forms you can download the App free and login immediately using:

Username - 'guest' 
Password - 'demo'